First of all it was off to my doctor to get a dive medical, to make sure my physical health was up to scratch for heading underwater. All good on that front.
I'm lucky that I have a current First Aid certificate that is less than a year old, so I didn't have to renew that, but the last time I did an Emergency Oxygen Provider course was for the Kermadecs trip so that needed updating. We won't be quite as far away from New Zealand as we were last time, but we will have cylinders of medical oxygen on board boat just in case it's needed – and it's important that we all know how to administer it, which is how I came to spend an evening with my dive instructor and with biologist Kareen Schnabel from NIWA, who is also coming on the voyage.
Kareen and I took turns being the patient and the first aider, and making the slightly disconcerting discovery that one of the types of oxygen delivery masks makes pig-like snorts when you breath in! I suspect, however, that if I had an accident and needed to be on oxygen I wouldn't care that I sounded like a pig.
Also on the list of requirements for the Three Kings expedition is a recent dive, and as I have to admit I hadn't been in the water for a while (it may have been a hot summer but the sea around Wellington is always brisk!) it was time to put my wetsuit on, shoulder a dive tank and get wet. Fish biologist Malcolm Francis and I headed to our local dive area, the Taputeranga Marine Reserve on Wellington's South Coast, and I cruised around enjoying the reasonable visibility (the south coast is famous for pea-soup visibility but on this day we could see quite a few metres, although it was nothing like Kermadecs visibility!).
Malcolm was busy pointing his camera at various fish faces and poking around in nooks and crannies. He gestured me over to show me something in a small cave scooped out of a rock face, but I was too late and all I saw was a swirl of sand on the cave floor. As soon as we resurfaced and took our regulators out of our mouths Malcolm explained what he'd seen – it was a pygmy sleeper, New Zealand's smallest fish, which only grow up to 4 centimetres long. And it was the first one that Malcolm had ever seen!
It was a great reminder that it's possible to find exciting species right on your doorstep in a place you visit all the time – so just imagine what we might find in the waters around the Three Kings Islands, which are most definitely not on anyone's doorstep.
My shake-down dive for the Three Kings Expedition with fish biologist Malcolm Francis on Wellington's south coast was notable for a rare sighting of New Zealand's smallest fish, the pygmy sleeper. But it wasn't the only excitement for Malcolm – he also got a photograph of another small elusive fish, the banded weedfish. Although it gets up to 11 centimetres long it's hard to spot as it is able to change its colour to match whatever seaweed it happens to be resting on. And I can tell you all of that with great confidence because I have looked it up in Malcolm's new fish guide, Coastal Fishes of New Zealand, which also tells me that the banded weedfish has been recorded from the Three Kings Islands.
Malcolm tells me that there are 219 species of coastal fish covered in the new book, and of those 94 have been recorded at the Three Kings, so I'll making sure we have a copy of the book along on the expedition. I know that Tom and Malcolm can pretty much just look at a fish and know exactly what it is, but that's a skill I don't share, so I know I'll be referring to the book.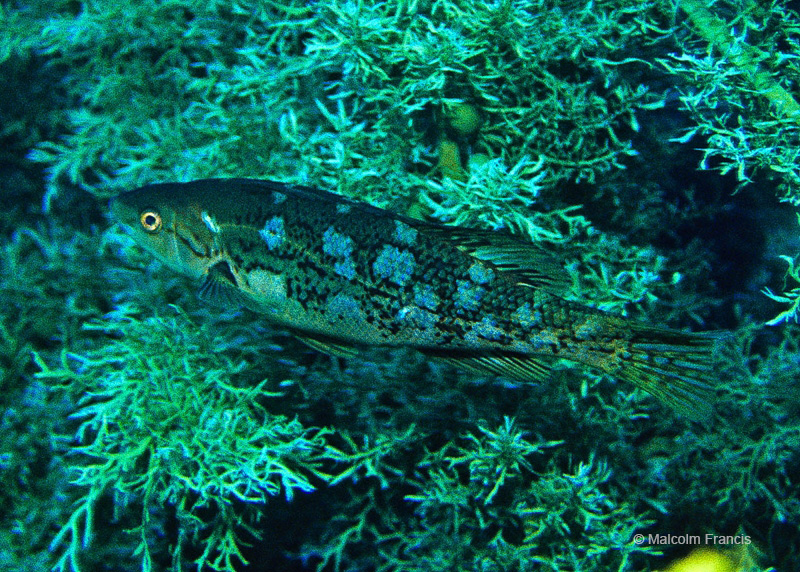 And if I have time underwater I'll be peering at seaweeds hoping to see a small well-camouflaged banded weedfish. And who knows, if I pay particular attention to little caves with sandy floors, maybe I can come up with the first record of a pygmy sleeper for the Three Kings.