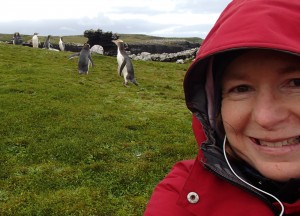 You'll hear a lot more from him and the rest of the scientists during the expedition but I'm Alison Ballance and I'll be the one writing the daily blogs about what they've been up to and making sure you get to see lots of photos and videos of what they are finding in the waters around the Three Kings Islands.
Some of you may have met me before when I was the blogger for the museum's Kermadecs Biodiscovery Expedition in 2011. I can't believe it's nearly two years since we set off for our three weeks in the Kermadec Islands! On that expedition we found several species new to the Kermadecs and even made discoveries that were new to science. So I was very happy to hear the news that Auckland Museum had organised another marine expedition – this time to the Three Kings – and even happier to hear they'd saved me a berth on the Braveheart and that I get to reprise my role as resident blogger.
Apart from keeping you in touch with what's happening aboard Braveheart, I'm also going to be diving as part of the fish team and recording the action for my radio programme Our Changing World (on Radio New Zealand).
I hope you'll join us on this expedition to see what we discover and as you're reading the blogs please feel free to jump in with your own questions. You can either leave a comment at the bottom of the daily blog or head to our Ask a Scientist page.
It's less than two weeks until we leave now (we leave Tauranga on April 8) so tomorrow I'll share some of what's on our 'to do' list before we can set off for the Three Kings Islands.